My Jack Russell Terrier, Sly, is extremley precious and a lot of fun. Honestly, my husband and I had no idea what we were getting ourselves into. We had no idea how rowdy and hyper Sly would be, but we all adjusted and done our research which is why I created this site. I want to assist others and have a place to rant and rave about how GREAT my Jack Russell has become.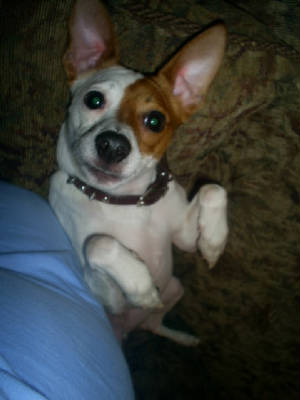 Sly is a year and half and is always getting into things. He is a great companion and has become a very important part of the Gwyn household. We couldn't imagine not having him.
Sly in his favorite position wanting his belly rubbed...Jack Russells love getting attention!
These are pics of Sly as a puppy..he was the cutest puppy ever..don't you agree?
Sly with his daddy and below in my lap